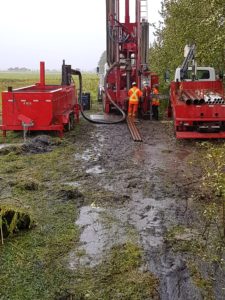 At AMA drilling, we specialize in:
Agricultural well water systems
Residential well water systems
Commercial well water systems
Pump sales and service
Water is earth's most precious resource. And at AMA Drilling, we specialize in bringing that resource to you. There are many factors that can determine the quality of the water you get from your well, and we can assist you in maximizing all of them. These include:
Choosing a Proper Well Site This can be the most critical part of the water well drilling process and often has the most influence on the final quality of your well water. AMA Drilling will assist you in site selection, to provide maximum volume and pressure. We will also help to prepare your site to accommodate our drilling equipment to cause minimal impact to the environment and any existing structures.
Existing Wells Even if you already have a water well, we can work with you to improve the volume and quality if the water you are getting currently. Often an existing well can be deepened and cleaned out to improve your water.
Well Maintenance As with anything, proper maintenance will ensure a long lifespan for your well, and maximum results during that time. Our trained pump repair staff can also aid in testing and repair your water well equipment, and if it needs to be replaced, we carry a full line of Grundfos pumps for any application.